The OmniBazaar marketplace will revolutionize the way e-commerce is done. Now it is easy to "barter for bitcoin".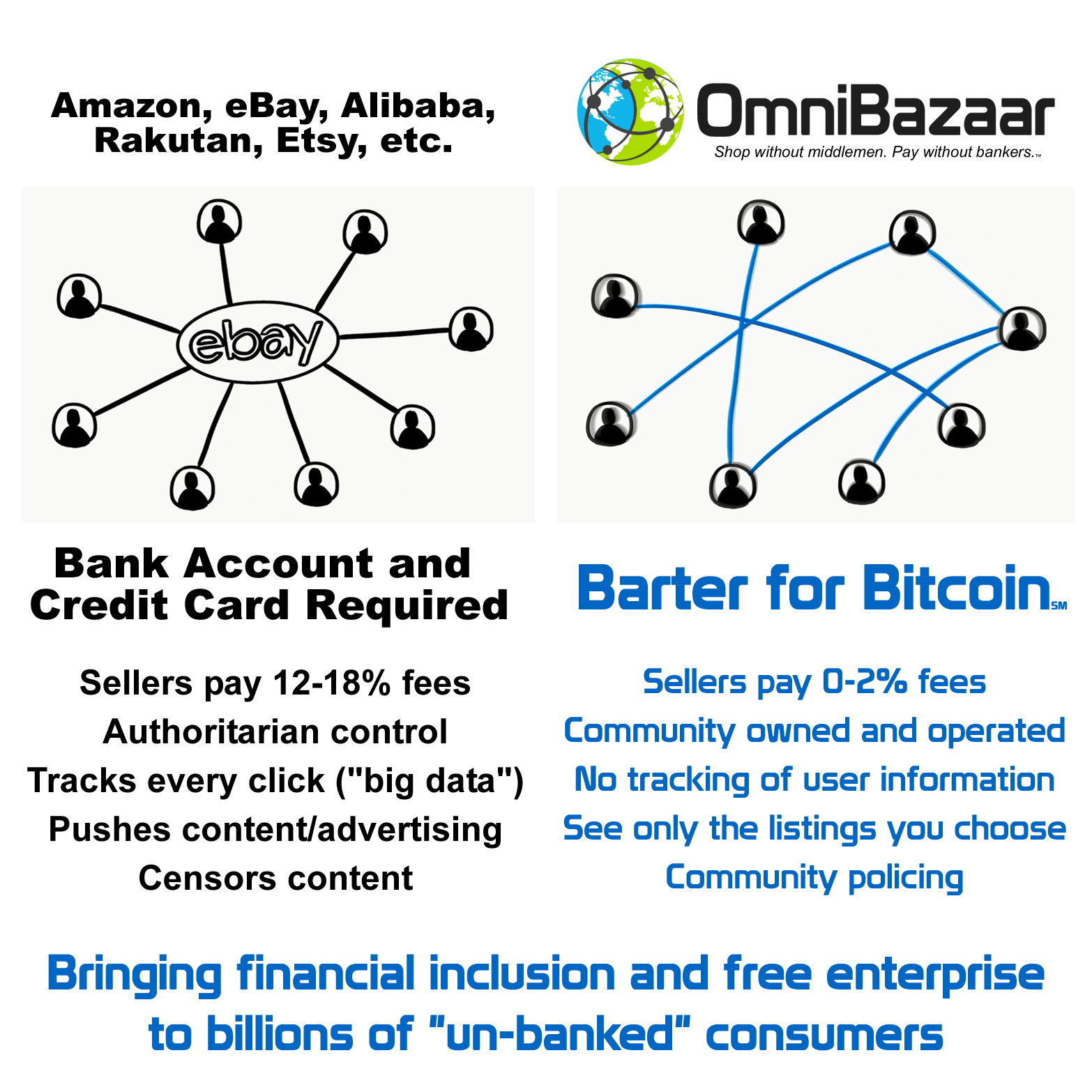 OmniBazaar enables users to shop without middlemen and pay without bankers.
Our Mission
Our goal is to bring financial inclusion and free enterprise to 2 billion people who currently under-served by modern financial systems. Our purpose is to enrich their lives and increase their freedoms. 
OmniBazaar provides a simple "on-ramp" to both e-commerce and cryptocurrency for billions of "un-banked" people worldwide, by allowing users to "barter for bitcoin". 
OmniBazaar is a new type of e-commerce marketplace that removes the middlemen and bankers from e-commerce. OmniBazaar will allow users to buy and sell directly among themselves (rather than through a middleman site like Amazon or eBay), using Bitcoin and OmniCoin (instead of credit cards or PayPal). By using a distributed structure to eliminate the middlemen, and using Bitcoin and OmniCoin to eliminate the bankers, OmniBazaar will be able to charge users up to 100% lower fees than existing e-commerce sites like eBay and Amazon. OmniBazaar will also serve the 2.5 billion "un-banked" people world-wide who cannot use existing e-commerce sites, because those sites require users to have credit cards and bank accounts. 
Participants anywhere in the world will be able to "barter for crypto" in the OmniBazaar marketplace without bank accounts, credit cards, application forms, or credit checks, using only their smartphone, computer or tablet.
Individuals and small businesses will transact business among themselves using a free version of the OmniBazaar software to list and shop for products and services. Users will pay no fees to join the marketplace, no fees to shop or to post listings, and no monthly or annual membership fees. Users will pay only a small (~1%) fee on each transaction to support the marketplace network.
The marketplace technology to accomplish this has been designed, programmed, and a launched. 
Screen shots from our working production network:
Download and install the OmniBazaar marketplace and OmniCoin wallet here:
http://download.omnibazaar.com/support/download?ref=developer 
New Money for a New Marketplace
OmniCoin is the digital currency of the OmniBazaar marketplace. People will use Bitcoins and OmniCoins to buy and sell goods and services in the OmniBazaar marketplace. The value of OmniCoins will "float" freely compared to other currencies, and the value of OmniCoins will be based on the value of the goods and services they can buy in the marketplace.
OmniCoin is simple and secure to use. It is privacy-friendly, because it allows you to choose to conduct transactions that are either transparent or anonymous. Transaction processing takes seconds instead of minutes, so OmniCoin is business-friendly. Transaction processing uses relatively little computing power, so OmniCoin is eco-friendly. And, with OmniCoin, you can do transactions using an account name instead of a string of numbers. This makes OmniCoin user-friendly.
When OmniBazaar and OmniCoin launch, we will give away OmniCoins to users of the OmniBazaar marketplace.
We want tens or hundreds of millions of people to be owners of OmniCoin and users of the OmniBazaar marketplace. So, we will give away billions of coins to people who join, refer their friends, do transactions in the marketplace, and provide the services and infrastructure for the marketplace.
In the beginning, OmniCoins will be free. But, as thousand, millions, or billions of people use them in the OmniBazaar marketplace, OmniCoins will find a value, as any currency does, based on the confidence people have that they can use OmniCoin to purchase valuable goods and services.
OmniCoin Features
(OmniCoin is built on the Graphene code base.)
Easy Addresses: Send/Receive to an account name, not a number

Distributed Escrow

Anonymous Chat




User Reputation System

Incentives for User Participation

Rewards for Service Providers
Technical Specifications 
Blockchain Security: Proof of Participation (PoP)
Block Time: ~5 seconds
Total Supply: 25,000,000,000 16,600,000,000 (Revised 25 December 2019)
Block Rewards: 7.6 billion (30.5%) over 27 years 
User-Acquisition Incentives (Air-Drop, Referral, etc.): 6.4 billion (25.6%)
Token Sale Event: 8.4 billion (33.6%) (Cancelled 25 December 2019)
OmniBazaar Development Fund: 2.5 billion (10% - Distributed evenly over 4 years)
Other Distribution: (The "perks" from our previous crowd-funding campaign, faucet, etc.) 257 million (0.1%) 
OmniCoin Distribution Percentage: 100% after 27 years 
Bonus/Incentive Distribution Period: As long as it takes
Initial PoW Period: None
Developer Hold-back: None
Investor Repayments: None


Download and install the OmniBazaar marketplace and OmniCoin wallet here:
http://download.omnibazaar.com/support/download?ref=developer 
CryptoBazaar -- Distributed Cryptocurrency Exchange
CryptoBazaar will provide a secure, escrowed, decentralized cryptocurrency exchange. Imagine being able to buy and sell cryptocurrencies without relying on a centralized exchange.
CryptoBazaar will include access to a peer-to-peer escrow service, provided cooperatively by other CryptoBazaar users, which will allow secure transactions between buyers and sellers who don't know or trust each other.
Frequently Asked Questions (FAQs)
Why create another cryptocurrency? Why not just use Bitcoin?
There are several reasons. An address for receiving Bitcoin looks like this: 15r8p9bbciYyjn3Jo1o4UEne7XKAXPCTM3, while an address for receiving OmniCoin looks like this: alice23. Bitcoin takes up to an hour to generate six confirmations of validity for a transaction, whereas OmniCoin will generate six confirmations in under a minute. Confirming Bitcoin transactions is very energy-intensive, but confirming OmniCoins is done using a small fraction of the energy and a fraction of the time. OmniCoin is also designed to be better than Bitcoin at accommodating the "micro-payment" transactions that will occur when marketplace service providers are paid a small percentage of the transaction fees from a transaction. We're also building OmniCoin with a simple, automated escrow feature that doesn't exist in other Bitcoin wallets, and a built-in reputation tracking feature that doesn't exist anywhere in Bitcoin (that we know of). Finally, by creating a token specifically for the OmniBazaar marketplace we believe we can make the marketplace more useful and robust.
Having said all that, we are building OmniBazaar to operate with Bitcoin, Ether and OmniCoin.
How can OmniCoins have value if you are giving them away?
When most cryptocurrencies launch, they make a point of promoting the wonderful new features of the coin itself, with the idea that those features are somehow the basis of its value. We are taking a completely different (and radical) approach. We believe that the value of any currency lies only in the confidence people have that it can be used, today or in the near future, to acquire valuable goods and services. People can come to perceive a unit of currency as an investment if they believe it will be more useful (valuable) in the future. But that is a different concept than its value (usefulness) as a currency today.
We are giving away OmniCoins to emphasize the fact that any cryptocurrency, by itself, is absolutely worthless. It is nothing more than some bits and bytes pushed across the Internet. Only the usefulness of a cryptocurrency gives it any value. So, we are creating a simple, secure, cooperative, distributed marketplace where OmniCoins can easily be used, and allowing OmniCoin to find its own value. If we do a good job of making the marketplace easy, safe, and inexpensive to use, and create OmniCoin with advanced features that make it useful in that marketplace, we feel certain that both OmniBazaar and OmniCoin will prosper. The price of OmniCoins may be low in the beginning. But, the more they become useful (and are used), the higher the value (and price) will become.
Why charge transaction fees for services? If the marketplace is cooperative, why isn't it free?
Without charges for consumers of services, and incentives for providers of services, the OmniBazaar marketplace would experience a phenomenon known as the "tragedy of the commons".    The creator of Bitcoin avoided this problem, with respect to transaction processing and network security, by providing a financial incentive for the Bitcoin "miners" who provide these services. OmniBazaar extends this concept to also include incentives for those who publish listings for others, provide escrow services, facilitate privacy in the network, etc. We strongly believe that without such a system of fees and incentives, a marketplace economic system like OmniBazaar would fail, due to the "tragedy of the commons".
There is an open-source distributed marketplace project under development that aims to operate without any fees. We believe this effort is doomed to fail for the reasons given above.
How will the developers benefit?
The development team is a "service provider" in the marketplace, just like the Publishers, Escrow Agents, Promoters, and Transaction Processors (miners). So, the developers will receive a portion of the transaction fees from marketplace transactions, just like other service providers. By default, that fee is one half of one percent (0.50%), paid by the seller. But, it is possible for both buyers and sellers to use OmniBazaar completely free of charge, as long as they don't use any of the optional marketplace services. But, we believe that most users of the marketplace will prefer to use some of the available services, and will consider the fees to be reasonable and fair. After all, OmniBazaar will save sellers about 90% of the fees they would pay if they sell on Amazon or eBay. This will naturally also result in lower prices for buyers.
How will you avoid criminals and terrorists? 
We are designing OmniBazaar to be private but not anonymous. So, it will be possible for law enforcement agencies to track criminals and terrorists who attempt to use OmniBazaar. We believe people are basically good, and that the vast majority of people have no interest in engaging in criminal activities. So, we are focused on protecting the rights and privacy of the honest majority. 
We have also built into OmniBazaar a self-policing system that will allow users to flag prohibited content. If a product is flagged as prohibited by several users, that product will be removed from the system. We have also designed a reputation system that will penalize sellers who list prohibited content. By developing a reputation for honesty, reliability and longevity in the marketplace, users will gain "clout" in the marketplace and have a stronger vote in removing objectionable content.
We have designed OmniBazaar to be a better alternative to Amazon and eBay, not the next Silk Road.
When did the OmniBazaar/OmniCoin/CryptoBazaar project start?
The first complete technical description of the peer-to-peer shopping marketplace concept was published in August, 2013. OmniBazaar Inc. was incorporated in September 2013, to develop the project. By December 2013 we put together our core team, had a Private Placement Offering ready, further developed the technology, created two videos describing the project, and generated various marketing materials. In January 2014, we introduced OmniBazaar and the cooperative distributed marketplace concept at "Bitcoin Miami". Since that time, we have been working largely "under the radar", and have now completed the core marketplace application and the wallet for OmniCoin. 
Our Values
Individual liberty, Internet privacy, market freedom, and financial responsibility
Building a sustainable, asset-based, independent economic system
Bringing e-commerce to half the world's population who don't have bank accounts
Getting cryptocurrencies into broad use by average people around the world
Encouraging and promoting local, mobile, and social commerce
Join our crusade
Would you like to pay less for stuff when you shop on-line?
Do you believe in personal privacy and individual liberty?
Would you like to help us bring e-commerce to half of the world's population?
Do you support the development and use of alternative currencies?
If you answered "yes" to any of these questions, download and install the OmniBazaar application here:
http://download.omnibazaar.com/support/download?ref=developer 

How you can Participate
Download and install the OmniBazaar application here:
http://download.omnibazaar.com/support/download?ref=developer 
AIRDROP (WELCOME BONUS) INSTRUCTIONS
Here are the steps of the airdrop and bounty program:
1) Download the OmniBazaar desktop application software and install it.
2) Launch the program, and choose a username and (strong) password.
3) Join the OmniBazaar Twitter feed using the link provided.
4) Join our Telegram chat using the link provided. Start the Telegram bot.
5) Sign up for our MailChimp newsletter using the link provided.
6) Click the button to register your user and receive your Welcome Bonus.
BONUS LISTING BOUNTY
Earn up to 25,000 OmniCoins for creating new product or service listings the OmniBazaar marketplace. You will recieve 5,000 OmniCoins for each new product or service listing you create
(1) — Limited to the first 500 new listings created = 2.5 million OmniCoins total bounty.
(2) — Limited to 5 listings (25,000 OmniCoins) per user.
(3) — You must create REAL LISTINGS for new or used products you actually have for sale, services you are willing to perform, an apartment for rent, a gig you are promoting, or almost anything you are actually willing to sell or provide.
(4) — Every listing must include at least one image that is relevant to the item listed.
(5) — All listings must be in English. But, you are encouraged to make "mirror" listings in your own language.
(6) — Make a screen shot of each listing you create and send to @omnirick on Telegram, along with your OmniBazaar username.
(7) — After we verify your your listing(s) you will receive the bounty in your OmniCoin wallet.
REFERRAL BOUNTY
(1) — Receive 2,500 OmniCoins for each of your referrals who joins.
(2) — No limit on the number of Referral Bonuses you can earn.
(3) — After the first 10,000 referrals, the bonus drops to 1,250 OmniCoins.
Your own custom referral link is available within the OmniBazaar app.
Spread the Word
Accredited Investors (You know who you are.)
Tech Talk
Download our white paper here (PDF available in 16 languages)..